UK firms cleared of gas price manipulation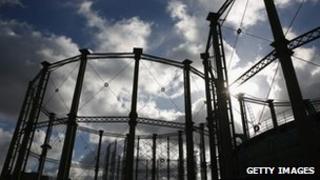 Regulators have found no evidence of price manipulation in the UK wholesale gas market after an investigation.
Energy regulator Ofgem and the Financial Conduct Authority (FCA) began an investigation a year ago, following allegations by a whistleblower.
"No evidence of the alleged market manipulation could be found [and] the interests of consumers have not been harmed," the regulators said.
The finding comes amid concern over the rising cost of gas for consumers.
In recent hearings at the Energy Select Committee, energy company bosses have blamed rising wholesale gas prices for recent increases in energy bills.
Four of the UK's six main energy companies have recently announced price rises, with an average increase of 9.1%, and the other two are expected to follow suit soon.
The firms say the rises are largely due to increasing wholesale prices.
Ofgem says wholesale costs have risen 1.7% over the last year, but the wholesale price of gas for use this winter has risen by 8% compared with last winter.
Whistleblower
About 46% of the average dual fuel bill is made up of wholesale energy costs, according to Ofgem.
The whistleblower, Seth Freedman, worked at ICIS Heron, a financial information company that publishes energy price reports.
At the time of the launch of the investigation ICIS Heron said it "detected some unusual trading activity on the British wholesale gas market on 28 September 2012, which it reported to energy regulator Ofgem in October".
Mr Freedman told the BBC in November 2012 he thought that price-fixing was widespread. "Having spoken to traders and other market participants, it seems like manipulation is rife in the gas market," he said.
In response, Energy Secretary Ed Davey promised to apply the "full force of the law" if the allegations were proved true.
The allegations suggested that gas was sold by traders at lower-than-market prices in order to influence the benchmark price used to price a range of contracts.
But Ofgem said the traders concerned had given "credible" explanations to "demonstrate that their trading activity was not improper".
Ed Davey said Ofgem and the FCA had conducted a "rigorous review", but still pledged to introduce criminal sanctions for energy market manipulation.