Pension plan to save salary-linked schemes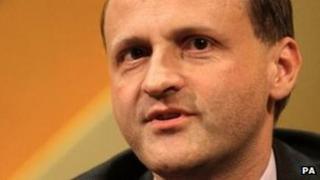 Salary-linked workplace pensions will disappear unless action is taken to make the schemes cheaper for employers, a minister has warned.
Pensions Minister Steve Webb has unveiled plans to remove legal obligations surrounding traditional final-salary schemes.
He also wants employers to be able to improve lower grade pension arrangements, now used by most firms.
Only 1.7 million private sector workers now contribute to final-salary schemes.
In 1995, five million private sector employees were contributing to these schemes, which promise to pay a proportion of salary on retirement.
'Flexibility'
Under the proposed new law, employers would no longer be required to give pensioners annual inflation increases. In addition, they would not be expected to provide pensions for spouses after the former staff member has died.
Pension rights already earned would be secure, under the plans. The government hopes that by giving bosses the flexibility to cut back future benefits, some of the remaining salary-linked schemes will survive and remain open to new employees.
The legislation could be in place before the next election in 2015, according to Mr Webb.
The ideas have been welcomed by some providers.
Otto Thoresen, director general of the Association of British Insurers (ABI), said: "The ABI welcomes this consultation which provides a clear basis on which to debate a range of alternative ways to improve certainty for pension savers."
'Cheaper'
Millions of workers are being enrolled automatically in new workplace pension arrangements, but for the most part these are not linked to pay.
In many cases the contribution levels are so low that the eventual pension income is likely to be relatively meagre.
The forthcoming legislation will encourage companies to provide income guarantees in these schemes, in the hope that people will regard pensions as less of a gamble and contribute more.
The government is also planning to change the law to allow "Dutch-style" pensions. Employers would be able to band together to offer large-scale schemes which target a particular level of pension income.
Ministers have been persuaded that these "Collective Defined Contribution" schemes would be cheaper to run and could provide savers with more certainty about their retirement.
The government refers to the proposals as a whole as Defined Ambition pensions. The proposed new types of pension are:
Flexible Defined Benefit: A salary-linked scheme with fewer obligations for employers
Guaranteed Defined Contribution: Workers build up a pension pot and the employer guarantees its future value
Collective Defined Contribution: Employers band together to offer large-scale schemes which are cheaper to run but not linked to salary
Analysts have said the plans will not solve the pension difficulties faced by UK workers.
"There is no private pension structure that will entirely meet the needs of everyone without some risks attached," said Danny Wilding, partner at consultants Barnett Waddingham.
"However the options described in the consultation would help to alleviate some of the major issues that are present in the current pension landscape."