BP and Shell among oil firms named in price-fixing lawsuit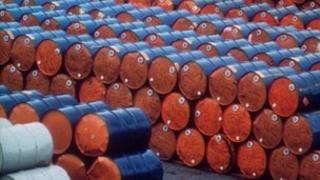 BP, Royal Dutch Shell, and Statoil are among firms accused in a lawsuit of manipulating the Brent oil market.
Four traders have filed a class action in a Manhattan court alleging that oil majors and trading houses have fixed prices since at least 2002.
Among others named in the lawsuit are investment bank Morgan Stanley and energy traders including Vitol Group.
In May, the European Commission launched an inquiry into suspected anti-competitive practices.
The four traders, from the Nymex commodities exchange in New York, claim that one method used to manipulate prices was "spoofing" - placing orders to move the oil price market with the intention of cancelling them later.
The North Sea Brent oil benchmark is used to price around two-thirds of world crude and determine the cost of petrol and heating fuel.
In May the EC raided the offices of companies including BP, Shell and Statoil. It warned that even small distortions of prices could have a huge impact on "the prices of crude oil, refined oil products and biofuels purchases and sales, potentially harming final consumers".
Shortly after the EC's raid, Chicago-based commodities trading firm Prime International filed a lawsuit against BP, Shell and Statoil, alleging collusion to fix oil prices.
According to the Reuters news agency, a Statoil spokesman said on Wednesday that it was not uncommon to see private US lawsuits filed following investigations by government agencies. The other companies named declined to comment.