Fraudsters target BBC reporter in investment scam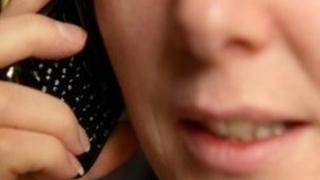 Police have launched an investigation into a gang selling fake gold investments after they were exposed by the BBC.
Victims handed over tens of thousands of pounds after being contacted at home and promised large profits.
One person targeted was Radio 4 You and Yours reporter Shari Vahl, who taped the calls and secretly recorded a meeting.
City of London Police say they have now launched a criminal inquiry.
The cold calls came from a company called Demmore Ltd, not to be confused with companies of a similar name, which claims to be based in Hatton Garden in London. It offered big profits through leasing gold to corporate clients.
Investigative journalist Vahl has been reporting on fraud for a decade, so when the call came, she recognised it immediately.
She secretly recorded her conversations and arranged to meet a company salesman.
"It is really a thriving market. It outperforms most bank-based investments and underperforming stocks and shares," he told our reporter.
"I can guarantee you 15% returns in 60 days."
Completely fake
The company is believed to have made similar boasts to hundreds of people.
Some, like David from Greater Manchester, were convinced. He has handed over £41,000 to the gang, who are still calling him and asking for more money.
"Because I'd like to leave something for my grandchildren, I was very tempted. It all looked OK," he said.
The company does look real and established. But the investigation by the You and Yours showed that it and the scheme it is offering are completely fake.
They cite Boots and Wholefoods as business clients, but both companies say they have nothing to do with Demmore.
Demmore Ltd claims to operate from the trading floor in the Thomson Reuters building at Canary Wharf, but Thomson Reuters says it does not and that no trading takes place within the building.
The programme also revealed how the fraudsters buy up existing companies that have been operating for at least three years to appear legitimate.
"I've been had. How am I going to repair the damage?" asked one victim.
Boiler room
Criminal gangs have been selling fake shares for years, in what are known as boiler room scams. About £3bn was lost to fraudsters last year.
But the fraud gangs have moved into commodities such as wine, land and carbon credits - and now this one is selling gold.
"The indications are that it does appear to be a boiler room," said the director of fraud prevention at Barclays, Jim Winters. "The industry figures show that more and more people are falling victim to investment fraud."
Fifty-three-year-old Michael handed over almost £90,000. "You just think it's too good to miss, there can't be a problem and you just kid yourself a bit.
"I've just been in the process of sending them money - I haven't had anything back at all. I just don't understand how people can do this - they're predators."
When the gang were confronted by the BBC, they continued to lie about who and where they were.
The City of London Police are now investigating and a string of bank accounts found by the BBC have been frozen. It is not yet clear whether investors will get any money back.