Eurozone data shows fragile economic growth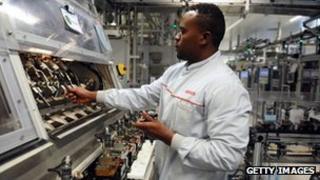 Further evidence of the eurozone's fragile economic recovery came on Wednesday in two sets of data.
Eurostat, the EU's statistics agency, said retail sales in the 17-nation bloc fell 0.6% in September from August.
Meanwhile, Markit's composite purchasing managers' index (PMI) fell to 51.9 points in October from 52.2 in September.
The reading was, however, still above the 50-point mark that separates growth from contraction.
The sets of data came a day before the European Central Bank (ECB) is due to announce its latest decision on interest rates.
September is the final month of the third quarter, so Eurostat's retail data could impact on official quarterly GDP figures.
The eurozone emerged from an 18-month recession in the second quarter with growth of 0.3%, but other recent data has also pointed to a slowdown in the pace of growth.
Howard Archer, chief economist at Global Insight, said: "September's relapse in retail sales fuels suspicion that consumers across the eurozone will likely remain pretty cautious in their spending in the near term.
"Significantly, retail sales fell back sharply in Portugal - by 6.2% month-on-month - and Spain - by 2.5% month-on-month - in September". And he added: "German consumers have been generally reluctant overall to significantly step up their spending on a sustained basis in an uncertain environment."
'Pressure'
Markit's PMI reading of 51.9 for October is an upward revision of an initial 'flash' estimate of 51.5 points published last month. But it was still down from September's 27-month high.
Markit's chief economist, Chris Williamson, said the "loss of momentum raises concerns that the upturn is faltering".
He said that data, coming a day after the European Commission downgraded its 2014 eurozone growth forecast to 1.1% from 1.2%, would make for sober reading at the ECB.
The survey, based on some 5,000 firms in the single currency area, "piles pressure" on the ECB "to reinvigorate the recovery," especially with "concerns about deflation taking hold," he said.