World Cup 2013 sells Rugby League's sport and family values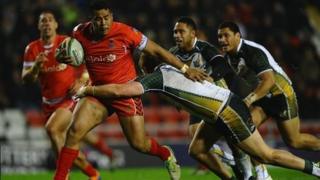 The UK is in the midst of a "golden decade" of hosting major events, from the 2010 Ryder Cup to the 2019 Cricket World Cup, via the 2012 Olympic Games, 2014 Commonwealth Games, 2017 Rugby Union World Cup and more.
But one event some sports fans may not have caught up on is the 2013 Rugby League World Cup, currently being staged in England and Wales, with some other games in the Irish Republic and France.
Rugby League bosses say that as well as staging a popular and successful sporting contest, this event is as much about spreading interest in the game outside of its north of England heartlands.
"We are delighted with how things are going so far, we are more than pleased with it," says Brian Barwick, chairman of the Rugby Football League.
"It has exceeded our expectations in terms of people going to games, the quality of the games, and media interest,"
Sell-outs
He points to an attendance of more than 10,000 for the game at Leigh between Tonga and the Cook Islands, two small nations, and without any connections to the north-west of England.
Other highlights for Mr Barwick have been the sellouts at Warrington, Rochdale and Workington, and a gate of more than 7,000 for the USA v the Cook Islands game in Bristol, a rugby union - rather than rugby league - heartland.
Another surprise has been the powerful form of the US team.
"We were very pleased with this, in what is not a traditional rugby league base," says Mr Barwick, who was attending a Sport Industry Group gathering in London.
The former BBC and ITV television sport executive, says World Cup organisers are also happy with TV viewing figures to date, and with the fact that every game so far has been "televised somewhere".
"This event had to do things for rugby league," he explains, saying that organisers' aims were more than just raising enough cash to bankroll the sport for the coming years.
"We had to introduce rugby league to a new set of people in this country. Fortunately, we had a good run in the media in the run-up to the event.
"One of the reasons I came on board was to broaden its media perspective, and holding five weeks of World Cup sport can only help."
Olympic legacy
He says that after a "classy" opening ceremony, the decision to play two games - including the high-profile England v Australia match - on the same Cardiff pitch on the event's opening day, paid off.
More than 45,000 people watched that opening-day double-header.
And Mr Barwick says ticket sales are healthy, and that more than 70,000 have been sold for the final at Old Trafford, Manchester, on Saturday, 30 November.
"I think it is the legacy of [London] 2012, people have got into the habit of going to events," the former Football Association chief executive says, adding that the volunteering legacy from the Olympic Games has also rubbed off on his event.
While at the FA, he saw through the completion of the new Wembley Stadium - which will host a Rugby League World Cup semi-final double header - and was involved in the appointment of Steve McLaren as the England football manager.
'World class sport'
Having experienced the national sporting domination of football, he believes that rugby league offers an equally exciting sporting alternative to both the round ball game and rugby union, and one "with unique qualities".
"Rugby league is a world class sport, played by world class athletes, but is has got a family feel to it.," says the 59-year-old, who was appointed to his RFL post in January this year.
"You can have a grandfather attending with his grandchildren - it is inter-generational.
"We want to bring more people in, we want wider recognition... but sometimes we are seen as poorer relations to the other [rugby] code."
He says the Rugby League World Cup will make money, and says that one immediate legacy of the World Cup is that people are enjoying the event.
But he says that a bigger challenge is to see if they can retain and increase the current level of interest.
"Those attending [World Cup] matches might stay with us, they might not, but our aim is to bring more people in.
"It will ebb and flow, but this is an opportunity for us to put our flag in the ground."