Would you bring your parents to work?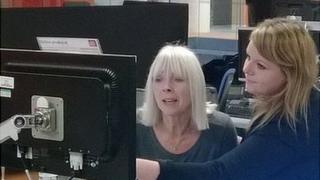 For two decades, millions of companies, predominantly in North America and Europe, have invited staff to bring their offspring to the office for a taste of grown-up working life, for one day a year.
Feminist and writer Gloria Steinem and the Ms. Foundation for Women in the US began the promotion of the day in 1993, so daughters could accompany parents to work, improve their professional aspirations, and their self-esteem.
It was expanded to include boys 10 years later.
So what about parents curious about what their adult children are getting up to all day? Is there a value in putting faces to names, and in seeing firsthand what sons and daughters are talking about when the topic of work is discussed over family dinners?
LinkedIn, the professional networking site, has designated 7 November the day the tables are turned, and launched the first "Bring In Your Parents Day".
Mum at work
So what about life in the BBC's Business and Economics newsroom?
I asked my mother, Patricia, to come in and see what I do, after years of her hearing me speak in "BBC jargon" about the world of news.
She had a long career as an orthoptist, looking after eye problems, and is recently retired.
Her initial response was a little lukewarm. In a text she asked, "How long do I have to stay?" So instead of subjecting her to a 10-hour news shift, she came in just after lunch.
It was, touchingly, a cause of unexpected excitement amongst the online team. Though I feared that my well-meaning mother would be unable to stop herself tidying some of the messier desks in the office.
She might also notice her empty cake tin that I keep forgetting to return months after I'd made muffins for colleagues. (She did.)
When she arrived, Twitter's shares had just started trading on the New York Stock Exchange (NYSE), a big story for the department, which we have been following closely.
So I had to temporarily abandon my mother, before a colleague could take over from me.
"Everyone looks very busy," Mum says. "Also because it's about business, it's not a world that I am familiar with. There's a lot of terms and words that we don't use in everyday life."
She adds that seeing things from the inside helps to "make clear the pressure of deadlines in this kind of environment".
She was also surprised to see correspondents and editors that she'd previously seen on TV, like Robert Peston, sitting inches away from the rest of us.
'Keeping us grounded'
Companies in 14 countries are taking part in Bring In Your Parents Day. From ZSL London Zoo to public relations firms and even some in the banking sector, parents are spending the day in the offices of their not-so-little darlings.
Liam Fay-Fright from the advertising agency Mother, where his staff are taking part in the initiative, says his company sees it as an opportunity to remind their staff of a world outside a creative media "bubble".
"I think having our parents around for the day will help to keep us all grounded."
Is he worried that this will be a day where not a lot of work will be done? "The loss of productivity will be made up for in gaining an insight and a reality check for the people who work in advertising," he says.
"Meeting people's parents is always interesting anyway, and people do find it hard to explain to their parents what it is they do."
Darain Faraz, from LinkedIn's press team says the idea came after a colleague repeatedly failed to properly explain what she does to her mother.
"About six months ago we were chatting and a colleague said her mother had asked her to write a paragraph about what it is they do. I do think there's a disconnect with the generations when it comes to the world of work. Especially in media and online companies."
'Grown-up parents evening'
So what are my mother's conclusions on my job?
"It does seem quite tense as there are a lot of breaking news stories," she says. As well as being surprised to see so many different things going on in the one room.
"It is also really good to put faces to names, especially when it comes to the bosses.
"I am glad I came."
As Linkedin's Darain Faraz says: "It is maybe a bit like a grown-up parents evening."