UK industrial output beats market forecasts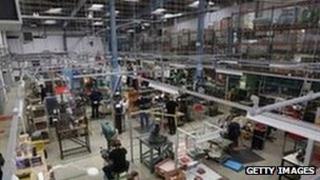 UK industrial production increased more than expected in September, according to figures from the Office for National Statistics (ONS).
Industrial output increased by 0.9% between August and September, above economists' predictions of 0.5%.
Output in September was 2.2% higher compared with the same period a year ago, marking the strongest annual growth since January 2011.
The industrial sector makes up about a sixth of the UK economy.
Increased productivity in manufacturing, mining, quarrying, and water management contributed to September's growth.
Manufacturing saw a 1.2% rise in output between August and September, with UK companies making more pharmaceuticals, transport equipment, computers, and electronics, the ONS said.
September's growth lies in contrast to August, where industrial output fell unexpectedly, showing its biggest decline for nearly a year.