Former Deutsche Bank US unit fined for discrimination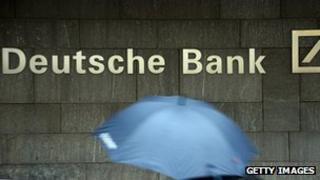 A former US subsidiary of Deutsche Bank has been ordered to pay $12.1m (£7.5m) over alleged discrimination against ethnic minorities.
The US housing department said MortgageIT charged black and Hispanic mortgage borrowers higher fees than white customers.
MortgageIT also refused loan applications from black or Hispanic customers more often.
Deutsche Bank disputes the allegations but agreed to pay the compensation.
A spokesperson for the US Department of Housing and Urban Development, which made the allegations, said: "It is creditworthiness and ability to pay that matter when you apply for a loan, not your race or where you come from."
MortgageIT was an indirect subsidiary of Germany's biggest bank, and one of the biggest mortgage lenders in the US.
It was ordered to pay compensation to borrowers unfairly denied a loan or whose loans violated fair lending laws.
A Deutsche Bank spokeswoman, Renee Calabro, said: "Though we deny these allegations, we are pleased to put the matter behind us."
The US department said analysis of MortgageIT's loans data from 2007 and 2008 found there was a 65% greater chance of African American borrowers to be issued more expensive loans than similar white borrowers.
It found Hispanic borrowers had a 72% greater chance of being issued more expensive loans than similar white borrowers.