Indonesian economy sees weakest growth in four years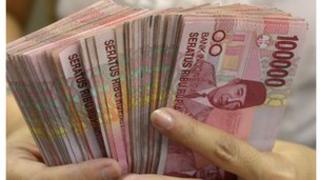 Indonesia's economy expanded at its weakest rate in four years in the third quarter as a result of slowing exports and subdued domestic demand.
Its economy grew 5.6% in the July-to-September period from a year earlier, down from 5.8% in the previous quarter.
Indonesia's exports have been hurt by slowing demand from key markets and a drop in commodity prices.
Meanwhile, domestic demand has been impacted by rising fuel prices and rising interest rates.
Fuel prices in the country surged earlier this year after the government removed its subsidy programme.
Petrol prices went up by 44% while diesel prices rose by 22%, leading to higher transportation costs and electricity bills.
Higher rates
Indonesia, like many other emerging economies, was also hurt after investors withdrew money from emerging markets earlier this year.
The pullout was triggered by growing speculation that the US central bank will start to taper off its key stimulus programme and start raising interest rates sooner than previously thought.
In Indonesia's case, concerns of slowing economic growth and a widening current account deficit further contributed to that pull out.
All of this has hurt the Indonesian currency which has dipped nearly 17% against the US dollar since May this year.
A weak currency coupled with rising consumer prices has resulted in the central bank raising the cost of borrowing in the country.
The latest raise in September saw the key rate rise to 7.25%, the highest level in more than four years.
Analysts said that the combination of all these factors had hurt domestic consumption and impacted growth.
In September, the country's central bank also lowered its growth forecast.
It now expects the economy to grow by 5.5-5.9% compared with its earlier projection of growth of 5.8-6.2%.