Elderly investors warned over £24m carbon credit scam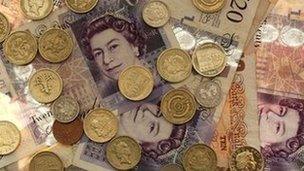 Small investors, particularly the elderly, have been warned to avoid a scam involving carbon credits, after more than 1,000 people were duped out of a total of £24m.
Financial firms operating the ploy sold investment in the credits, a permit that allows a company to emit carbon dioxide, but can also be traded.
The market in trading carbon credits is not accessible to small investors.
The government's Insolvency Service has closed down 19 companies involved.
The Consumer Minister, Jo Swinson, said: "This is a particularly disgraceful scam as it not only preyed on older people trying to maximise their savings, but also targeted their sincere desire to make ethical investments. Instead, investors have been left out of pocket with shares that are either worthless or do not exist."
One 90-year-old-man told the BBC how he had been pressurised two years ago to spend £60,000 of his retirement savings on carbon credits - which can be virtually worthless and are a mystery to most people, according to the BBC's personal finance correspondent Simon Gompertz.
The sales agents travelled from London to Cheshire to make the sale, but he never received paperwork and feels he was targeted because he was elderly.
He said: "They came to see me at Macclesfield station, and had a drink... I was very impressed, why should they come all the way from London?
"I should have been suspicious, if they're going to those lengths they must have something unique."
The man told the BBC he had "invested" £20,000 on European carbon credits and £40,000 on Californian carbon credits.
Some of the 1,500 victims were told their carbon credits would be then bought by British Airways and Marks and Spencer.
However, the two companies were not involved at all and the investors were left high and dry.
Most investors found there was no market for the relatively small amounts they held - as companies that trade in carbon credits only deal in high volumes.
The companies included Eco Global Markets Limited, which alone took at least £8.5m from more than 230 investors.
It was wound up by the Insolvency Service in July 2013.
Two other companies, Anglo-Capital Partners Ltd and Cavendish Jacobs Ltd, which between them took over £1.2m, were wound up in October 2013.
Caroline Abrahams, charity director for Age UK, said: "It is despicable that these companies seem to home in on older people as an easy target .
"Scams can take place on the doorstep, by phone, on the internet or through the post and the sad fact is that if something sounds too good to be true then it probably is."
She advised people who were suspicious of investment offers to take their time to think, and to talk to others, including the police if they thought they had fallen victim to a scam.
Age UK has two free information guides: "Avoiding Scams" and "Staying Safe", which provide practical steps to ensure older people are able to protect themselves against this type of crime in their home and on their doorstep.
Related Internet Links
The BBC is not responsible for the content of external sites.