Financial crisis hits happiness levels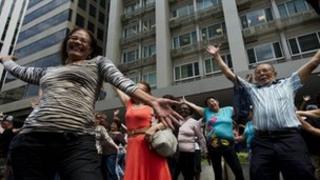 Countries worst hit by the global financial crisis saw their happiness levels fall as a result, a survey has suggested.
According to the Organisation for Economic Co-operation and Development (OECD), levels of "life satisfaction" fell sharply between 2007 and 2012 in countries like Greece and Spain.
Trust in governments also deteriorated over that time.
The OECD said the findings showed the far-reaching impact of the crisis.
However, the UK saw its happiness levels rise 1% between 2007 and 2012, putting it in the 20% of happiest countries in the OECD, alongside the likes of Australia, Canada, Denmark, Norway, Sweden, Switzerland and New Zealand.
The UK also bucked the trend by showing a rise in trust in the government, up from 36% to 47% between 2007 and 2011.
"The global economic crisis has had a profound impact on people's well-being, reaching far beyond the loss of jobs and income, and affecting citizens' satisfaction with their lives and their trust in governments," the 34-member organisation said.
Greece saw average life satisfaction levels fall by 20%, while Spain saw a decline of 12%, and Italy 10%.
Countries less affected by the economic downturn saw less of an impact on happiness levels. In Germany, life satisfaction rose by 4% over same five-year period.
But trust in governments has been eroded across the OECD as a whole, with just 40% of those surveyed saying they now trusted their governments - the lowest level since 2006.
The figures were derived from a survey which gauged quality of life under 11 categories, including personal security and work-life balance.
"This report is a wake-up call to us all," said OECD secretary-general Angel Gurria. "It is a reminder that the central purpose of economic policies is to improve people's lives. We need to rethink how to place people's needs at the heart of policy-making."