Twitter: It's worth how much?!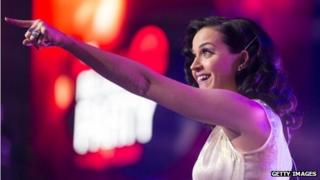 Twitter's much-anticipated launch on to the markets is fizzing with fanfare and debate over how - given that it has never made money - the microblogging site, priced at $26 per share, is officially worth more than $18bn (£11bn).
The facts seem to contradict themselves. Twitter's growth is slow, and it shows no sign of making a profit - its losses for the third quarter of 2013 increased to $64.6m, from $21.6m a year earlier. And more than half of its total registered users don't even use it.
But some analysts predict that in the months post-share sale, the seven-year-old company's worth will increase to $20bn and beyond.
That would give Twitter a valuation of more than double the likes of global carmaker Fiat, with its very modest-sounding market capitalisation of 6.9bn euros ($9.3bn).
But Twitter is not alone in its sector when it comes to big price tags, if not profits.
Online "scrapbooking" website Pinterest was valued at $3.8bn in October after its latest round of investment, giving it the same value, in terms of market capitalisation, as the UK's second largest house-builder Barratt Homes.
Yet while Barratt has reported a full-year pre-tax profit of £192m for 2012-13, Pinterest has never made any money.
Its digital "pinboards" may be attracting users, there may be talk of advertisers paying for posts, but it has no revenue yet.
So why do these social media companies have this value attached to them?
Value v price
Aswath Damodaran, a finance professor at New York University's Stern School of Business, told the BBC it was a bit like buying a house.
"You look at what other people are paying for something a little bit like what you are buying," he said.
"[But] you have to think about whether you are going to price [the company] or value it."
Twitter, Mr Damodaran believes, is being priced by bankers and brokers - not valued - and that pricing is coming from comparing it to its peers.
By this he means that value is something more complex and emotional, but that pricing is based on at-the-time comparisons.
Most notably, with Facebook.
"The big difference between Facebook and Twitter is that Facebook was making money [when it launched its IPO in 2012] and Twitter is losing money," said Mr Damodaran.
Facebook had a billion active users when it launched its shares. While Twitter is growing its user base rapidly - up 39% over the past year to 500 million - only 232 million of these are active each month.
According to a recent report by analysts Pew Internet, 72% of internet users in the US use social networking sites, but just 18% use Twitter.
Plus, while users are invited to tweet their thoughts in 140 characters, many do not engage on the platform at all, leaving their registered accounts dormant.
Others prefer to simply follow news feeds and favourite celebrities instead. This can cut the amount of time people spend on the site, and in turn the opportunities for advertisers to catch their attention.
A 'moon shot'?
Facebook's IPO famously ran far from smoothly, and its shares quickly halved in price, before recovering slowly over the next two years.
"Twitter is also entering a more crowded market than Facebook," said Mr Damodaran, "and there are many more queuing up to join."
Therefore, he added, Twitter should be valued at about $10-15bn. He wrote recently that "at $20 billion, it is a moon shot".
Chris Orndorff, who manages billions of dollars for clients at Los Angeles-based Western Asset Management, believes value is a lot to do with cash flow.
"One of the best ways to value a company is to figure out the present value of the cash flows," he said.
"For a more mature company, this is easier to do because they have a history of earnings, and generally reliable predictions about future earnings and cash flows.
"Relatively new companies do not have the history."
Therefore, he added, the stock was more likely to be volatile.
"The susceptibility of social media companies to changes in consumer tastes also makes valuing those companies much more challenging," he said.
'Scrabble for revenue'
Martha Lane Fox, co-founder of the travel website Lastminute.com, told the BBC she was confident Twitter could make money and hold its value.
"Yes it is a scrabble for revenue," she said, but the company "has an astonishing amount of money in the bank".
Advertising income from mobiles, rather than desktop computers, now accounts for over 70% of advertising revenue, and here, believes Ms Lane Fox and others, Twitter may be able to flourish.
She also predicted "a huge number of interesting deals and partnerships" that could boost it further.
Predicting the future?
A lot of the "value" or pricing of these companies depends on a future demand for services, as well as possible advertising streams.
But, as past deals demonstrate - that future isn't always predictable.
Famously, ITV bought the website Friends Reunited for £175m in 2005, but in 2009 Brightsolid paid ITV just £25m for the site.
It had been superseded. Its "value" had been eroded. Its customers, the key to any company, had, in large numbers, moved on.
Similar problems were encountered at one of the early social media pioneers, MySpace. In 2005 News Corp purchased MySpace for $580m. When it was sold in 2011, its price tag had fallen to a reported $35m.
It too had been overtaken, and users abandoned its offering.
But, for San Francisco-based CBS technology analyst Larry Magid, these cautionary tales make the newer clutch of technology companies stronger.
"MySpace is a constant reminder that a high and mighty service can lose its lustre. However, the lessons of MySpace were not lost on Facebook, Twitter and services that followed," he said.
"I think the difference [now] is the execution and the demographics. To succeed, Twitter needs a diversified audience that transcends a particular demographic. MySpace was focused on youth - a particularly fickle audience."
Mr Damodaran said: "A lot of very valuable companies today - including Google - were once small, money-losing companies."
And Mr Orndorff agreed: "The valuation is reasonable if the company can continue to grow its user base, generate cash flow from advertising, and successfully fend off the competition. If not, then it will be remembered - or forgotten - like many of the 1998-99 tech bubble companies, and generate plenty of tax losses for investors."