Npower: Unison and GMB voice fears over jobs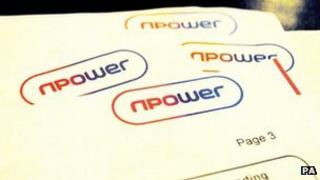 Two of the UK's biggest unions, Unison and GMB, have raised concerns over potential job losses at one of the "big six" energy firms, Npower.
A senior official at the GMB union said three meetings with Npower, to update the unions about the plans, had been cancelled so far.
He said he was "deeply concerned" and that members were "in the dark".
A spokesperson for Npower said it was reviewing its UK sites, but "no decisions have yet been made".
Unison has also asked Npower to "come clean" about rumours that it will cut 2,000 jobs and outsource work abroad.
The national officer for energy at Unison, Matthew Lay, said the company's workers were "up in arms" about the rumours.
He said: "In the weeks leading up to Christmas, the last thing that its workers need is news that their jobs are under threat."
In August, Npower said it was undertaking a major review of its UK sites, business operations and personnel.
It expects its 26 sites to be consolidated to about 10 in the coming years.
It also said it was "in discussion with external partners to explore whether other elements of its business could be better managed to help reduce costs and increase customer experience externally."
Npower recently announced price rises, with a dual-fuel bill to go up by 10.4%. The price increases will take effect from 1 December.