European Commission predicts 'turning point' in Europe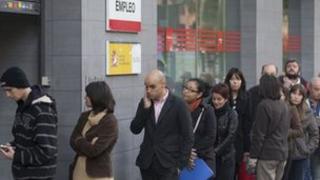 The European Commission has said the European economy has reached a "turning point", but the eurozone will grow less quickly than previously expected.
The Commission said there were "signs of hope" that had started to turn into "tangible positive outcomes".
But in the eurozone - the 18 nations that use the euro - it predicted growth of 1.1% next year.
This is the second downward revision of 2014 eurozone growth this year, after it was cut from 1.4% to 1.2% in May.
The Commission forecast that the eurozone would grow 1.7% in 2015. In the EU as a whole, it expects 1.4% growth next year and 1.9% in 2015.
It said overall EU growth would be flat this year, up from its May forecast, but unemployment would stay at 11.1%.
Jonathan Loynes, chief European economist at Capital Economics, said the subdued forecasts reflected the "general sluggishness" of the eurozone economy.
"The norm for the eurozone is still pretty dreadful, really. Even these forecasts are still likely to be too optimistic," he said.
On an individual country basis, the Commission significantly upgraded its forecasts for the UK from 0.6% to 1.3% for this year and from 1.7% to 2.2% for next year.
"[The year] 2013 has thus far exceeded expectations and the outlook is quite bright," the report said on the UK.
Recovery 'gradual'
"There are increasing signs that the European economy has reached a turning point," said Olli Rehn, commissioner for economic and monetary affairs.
But Mr Rehn warned unemployment would stay high.
"It is too early to declare victory: unemployment remains at unacceptably high levels," he added.
The Commission now expects unemployment for the eurozone next year to stay at its current level of 12.2%, up from its previous forecast of 12.1%.
It also expects unemployment to improve only gradually, staying around the current level for the next two years and only dropping to 11.8% in 2015.
The Commission also warned that it expected the recovery to be gradual.
"While the financial market situation has improved significantly and interest rates have declined for vulnerable countries, this has not yet fed through to the real economy," Mr Rehn said.
In the eurozone - the 18 member states which use the euro - the Commission predicted growth of 1.1% next year, down from its May forecast of 1.2%, and 1.7% in 2015.
The Commission blamed weaker investment and the fact it expected inflation to stay below the central bank target over the next two years.
The Commission also expects Greece's recession this year to be slightly less severe than its earlier forecast, predicting a fall in growth of 4% this year, compared with its earlier prediction of a 4.2% fall.