BMW sees car division profits stall as Europe weighs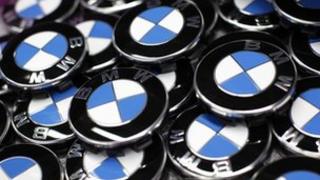 Luxury German carmaker BMW has seen profits drop in its key car division, because of weak European markets and costly investment in new technologies.
Pre-tax profit at the unit fell 4.1% to 1.6bn euros (£1.3bn) in the three months to September, although overall group net profit rose 3.2% to 1.3bn euros.
However, the firm, which also makes the Mini and Rolls-Royce brands, said car sales in the period rose 10.7% to a new record of 481,657 units.
It said Europe remained "challenging".
"Reported figures for both the third quarter and the nine-month period have developed positively, despite the higher level of expenditure on new technologies and a challenging market environment in Europe," said Norbert Reithofer, chairman of the BMW management board.
Mr Reithofer said BMW still expected sales volume to grow by a single-digit percentage point and pre-tax profit to be similar to last year's.
"We expect further sales volume growth for the fourth quarter, even though it is clear that we - and indeed the sector as a whole - are likely to be confronted with adverse business conditions," added Mr Reithofer.
The carmaker said its BMW3 Series was one of the biggest drivers of its growth, with nine-month sales of the car up by 27.6%.
For the three months to the end of September, worldwide sales of Minis rose by 5.8% to 75,482 units and sales of Rolls-Royce motor cars were up by 13.6% to 825 units.
Geographically, Asia was the biggest driver of growth, with sales up 24.5% in the third quarter. In the Americas region, sales rose by 15.9%, but in Europe they increased by just 1%.
Shares in BMW fell 3.2% in trading.