Taking stock: Cars and the recovery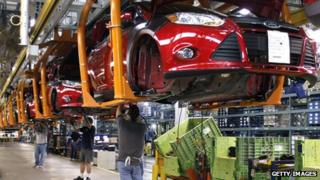 Looking over the earnings and sales data of various car firms reminded me of what cars reveal about our pocketbooks.
It's always hard to tell if there is a turn in the business cycle or whether there is a bubble in the market, but the car industry could provide a steer as to why some stocks have risen and where the economy may be headed.
First, are there signs of a bubble in the stock market? That's the warning from some of the biggest investment funds, including BlackRock.
Certainly, the rise in equities in the US and Europe is in stark contrast to the anaemic economic recovery and has been a source of concern for a while.
To give a sense as to how much markets have risen by, if you had put your money in US stocks five years ago, you would have nearly doubled your investment. The S&P 500 index has risen by 91% since the end of 2008.
Asia may be seen as having strong long-term growth prospects, but Asian equities on average would have yielded about an 87% return, just slightly less than the US since the financial crisis.
Well, it's less of a worry for the EU where stocks have risen by about 28%, which is in spite of the euro crisis. Unless you invested in Germany, of course, as the benchmark stock index, the Dax, has recently hit record highs. Or in Britain, where the FTSE 100 has risen by about 50% since the crash.
The Shiller question
Cheap money from central banks around the world, especially the Fed, has played a part in boosting markets which I have written about before. Of course, stocks also rise due to the fundamentals of companies.
No wonder there are so-called "bulls" who expect the rally to continue, while others worry that US stocks in particular are expensive when they look at Nobel Laureate Bob Shiller's measure of value.
There's a large divergence between the price of stocks and earnings in recent years in a series of data that dates back over a century.
According to Shiller's cyclically adjusted price-earnings ratio that compares the S&P 500 with the average profits of the listed companies during the prior decade, stocks are expensive now relative to their earnings.
The ratio has risen to 24.4, the highest since 2007 and just below a peak reached in 27.5 in May of that year during the boom.
It's still some way below the days of the dotcom bubble at 44.2 in December 1999, but prices are diverging enough from earnings that it's a source of concern.
This isn't the only measure of value, so opinions will differ. Besides, some companies are doing well.
The S&P is experiencing an unprecedented fourth year of earnings growth, and its stocks are viewed as a leading indicator of where the economy is headed.
Car firms return
One sector in particular - cars - has outperformed the S&P this year. Auto retailers are up 28%, auto manufacturers are up 30%, and parts manufacturers have risen by 48% since the start of the year.
In fact, the consumer discretionary sector that includes companies like cars and consumer electronics are the best performer in the S&P, rising over 33% this year.
Durable goods like cars are considered to be good indicators of cyclical turning points in the economy. If people have disposable income to spend, then they are more likely to buy a car or they'll postpone it if they don't.
The car industry has picked up in the US and Europe. After rescues and restructuring, the Detroit automakers are recovering.
Chrysler, now owned by Italy's Fiat, reported a 22% rise in third quarter profit and a rise in net revenue by 13.5%. Somewhat less well, revenues at GM still rose by 3.7% to $39bn.
Europe's largest carmaker, Volkswagen, also reported an increase in profit to 2.78bn euros from 2.32bn euros in the third quarter of last year.
Of course, it's not a wholly rosy picture. Volvo Trucks is cutting jobs and Nissan has trimmed its full-year profit forecast due to weak activity in Europe. But, even in Europe, growing car rentals have helped Hertz report a 22% rise in third quarter sales.
Interestingly, UK car production has defied the European trend for the past year or so.
Even while EU car sales have just fallen to the lowest level since records began in 1990, new car sales in Britain have risen for the 18th consecutive month and have returned to pre-recession levels.
It's not just in purchases, but also production and exports by the UK car industry.
Output for the year is up 9.9% from a year ago, and production has hit 1.5 million in the year to September which is the highest since the financial crisis.
Exports have also risen by 9.3% from a year ago as more luxury vehicles are sold to China, Russia, and the US.
For Britons, the Ford Focus was the most popular new car bought in the past year. It's not a flashy car, but then this isn't a flashy recovery.
For those who like to check out cars, there's perhaps now a couple of reasons to do so.
It may not tell you if there is a bubble, but the auto industry does reveal a crucial bit of information about people's disposable incomes.