Primark's 'remarkable year' lifts profits at AB Foods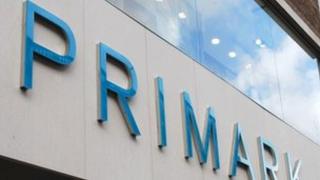 Clothing retailer Primark's "remarkable" performance has helped owner Associated British Foods to report a big rise in profits.
Total sales at Primark rose by 22% in the year to 14 September, while like-for-like sales - which strip out new store openings - were 5% higher.
Primark's performance helped AB Foods to report a 13% rise in full year pre-tax profit to £1.1bn.
"It was a remarkable year for Primark," said AB Foods boss George Weston.
Primark opened 15 new stores during the year, including four in the UK. It now has 257 stores worldwide and it said it plans to open a further 13 stores by Christmas.
Chairman Charles Sinclair said he believed that Primark was capable of "much further growth".
"Both the autumn/winter and spring/summer ranges sold out this year with little discount," he added.
AB Foods said Primark had also made "significant progress" with its ethical trade programme. It said it now had 40 in-country ethical trading specialists, with eight located in Bangladesh, where the collapse of a garment factory in April killed more than 1,100 people.
Mr Sinclair said AB Foods had paid short-term financial support of six months' salary to more than 3,600 workers in the building, irrespective of their employer.
"Primark has committed to provide long-term financial compensation to victims who worked for its supplier and their dependants," he said.
In addition to Primark, AB Foods owns British Sugar and a number of well-known food brands such as Kingsmill, Ryvita and Ovaltine.
Revenue across the whole group rose 9% to £13.3bn.