Twitter raises share price target by 25%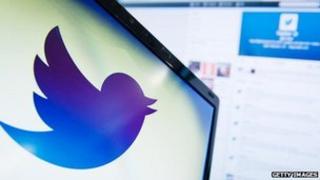 The micro-blogging company Twitter has increased its estimate of shares' value by 25%.
It now says they will sell for between $23-25 (about £15) a share on Monday, from a previous target of $17-20.
Demand for the shares has been so heavy the company is ending the offer a day early.
The estimate values the seven-year old company, which currently has 218 million monthly users but has yet to make a profit, at up to $13.6bn.
Twitter made a loss of $69m in the first six months of 2013, on revenues of $254m.
It is selling 70 million shares, which thanks to the revised share price valuation will raise up to $2bn.
Hot
There is likely to be enough pent-up demand as a result of the shortened offer time and analysts expect the shares to rise once they begin trading later this week.
The share offer is the most hotly anticipated since Facebook's flotation in 2012, but the massive hype turned to disappointment after the share price fell in the following days.
Unlike Twitter, Facebook increased the number of shares it was releasing to take advantage of the hot demand at the time, a move some analysts say oversupplied the market.
The final price of Twitter's initial public offering (IPO) will be set to price on Wednesday, with shares making their debut on the New York Stock Exchange on Thursday.
Glitches
The traditional home for technology companies is the Nasdaq exchange, but Twitter chose the NYSE instead after trading in Facebook's shares hit difficulties due to the heavy demand.
The NYSE has already tested trading of Twitter's shares to try to clear up any technical hitches that it may face when shares go public.
Twitter also said on Monday it had received a letter from IBM alleging it had infringed at least three of IBM's US patents.
Patent disputes are a regular feature between technology companies.