CBI president says business not 'the enemy'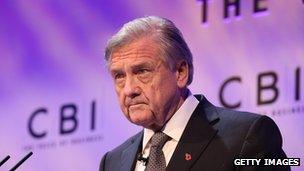 Business is suffering a crisis in public confidence, the president of the CBI employers' group has said.
Sir Mike Rake told the organisation's annual conference in London that business was seen by some people as the "enemy".
But the truth was that the UK would only thrive with successful, productive businesses of all sizes, he said.
"We want to be, we can be, and we are partners in building prosperity," he said.
"Some of the rhetoric we've heard recently suggests that business is somehow the enemy - we are not, and this could not be further from the truth.
"Business is undoubtedly suffering a crisis in public confidence - as we have seen in banking, and now in the current debate around energy."
Recent prices rise by energy suppliers sparked calls for price controls, windfall taxes, and an investigation into whether the market was working efficiently.
But Sir Mike, chairman of BT, said "over simplistic" statements just played to the public gallery.
"But they will not address the complex problems that need to be resolved - indeed, they are very likely to have the opposite effect."
Transforming the energy market will be costly, he warned, adding: "The obvious issue is how to balance long-term investment with the short-term pressures on household budgets.
"People are of course concerned about rising prices. They feel, rightly or wrongly, that they're being unfairly treated.
"There are no easy answers, but the public deserves better than politicians playing the blame game," he said.
The CBI president criticised the "commercially harmful" indecision over HS2 and urged politicians to stick to long-term infrastructure decisions.
"Vision and implementation are the answers to many of the UK's perennial challenges on transport: Road, rail and air, and energy. A co-ordinated plan for making this happen is essential," he said.
The delivery of some big projects on the ground "is just not happening", he warned. "Political indecision is commercially harmful - delivery has got to be ramped up."