Johnson & Johnson fined $2.2bn to settle drug cases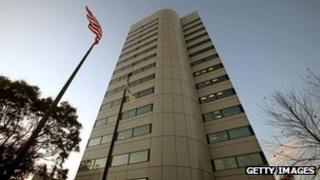 Drugs giant Johnson & Johnson has agreed to pay more than $2.2bn (£1.4bn) to settle allegations over its marketing techniques, the US justice department has said.
The firm is alleged to have paid incentives to doctors and pharmacies to promote three of its medicines.
These included anti-psychotic drugs Risperdal and Invega and heart drug Natrecor.
The firm also allegedly promoted the drugs for uses not officially allowed.
Johnson & Johnson "lined their pockets at the expense of the American taxpayers, patients and the private insurance industry," US Attorney General Eric Holder said on Monday.
"They drove up costs for everyone in the healthcare system and negatively impacted the long term solvency of the central healthcare programmes like Medicare", a government programme for pensioners.
While US doctors can prescribe medicines as they see fit, pharmaceutical companies cannot advocate any use of their drugs that has not been approved by the Food and Drug Administration.
It is the third-biggest settlement involving a drugs firm in US history.
It is intended to resolve both civil and criminal allegations involving the drugs at both state and federal level across the US.