Blackberry shares plunge after sell-off plan abandoned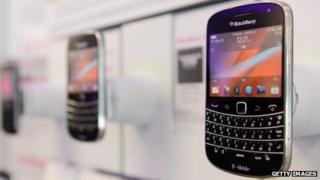 Shares in struggling smartphone maker Blackberry have fallen 16% after it announced it had abandoned a plan to sell itself to its biggest shareholder, Fairfax Financial Holdings.
Instead, it intends to raise $1bn (£627m) in fresh financing.
Chief executive Thorsten Heins will step down and former Sybase chief executive John Chen will serve as interim chief executive.
Last month, Blackberry reported a second-quarter net loss of $965m.
Those losses were blamed on poor sales of its new smartphone, the Z10.
'Substantial cash'
Fairfax was planning to lead a consortium of firms in a takeover of Blackberry worth $4.7bn.
But that plan, announced last month, has fallen through.
Last week, Reuters reported that Fairfax was struggling to raise the financing needed for the deal.
Instead, Fairfax, which owns a 10% stake in Blackberry, is contributing $250m to the new fund-raising.
"This financing provides an immediate cash injection on terms favourable to Blackberry, enhancing our substantial cash position," said Barbara Stymiest, chair of Blackberry's board of directors.
In September, the company announced a plan to cut 4,500 jobs, or 40% of its workforce, to reverse giant losses.
The interim chief executive, John Chen, acknowledged the challenge ahead: "Blackberry is an iconic brand with enormous potential - but it's going to take time, discipline and tough decisions to reclaim our success."
Some analysts remain sceptical about the firm's prospects.
"Now we're back to the downward spiral," said BGC Partners analyst Colin Gillis.
"They've got $1bn more cash that buys them time. The drumbeat of negativity is likely to continue."