Nissan shares fall as it lowers profit forecast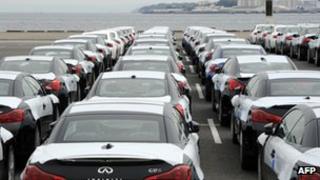 Shares of Japanese carmaker Nissan have fallen 10% to 861 yen in Tokyo after the firm cut its full-year profit forecast.
On Friday, the firm said it expected to make a profit of 355bn yen ($3.6bn; £2.2bn) for the year to 31 March 2014, down from an earlier forecast of 420bn.
Nissan said tough conditions in Europe and recent recalls had hurt its earnings. It added that demand in emerging markets had been "volatile".
Japan's share market was closed Monday.
Analysts said that investors were worried about the short term prospects of the firm,
"There are a few segmental trends which don't favour Nissan," Vivek Vaidya, a motor sector analyst at the consulting firm Frost & Sullivan told the BBC.
"Large pick-up segment in US is on the rise where Nissan is not a leading player, emerging markets like India are slowing down, currency fluctuations are eating into their profit and electric vehicles segment hasn't yet taken off," he added.
Management changes
The cut in the forecast came despite the company posting a 6.5% jump in profit for the July-to-September quarter, from a year earlier.
It reported a net profit of 189.8bn yen for the period.
Nissan also announced changes to its senior management which it said were "designed to enhance Nissan's performance and ensure the company will deliver the 8% operating profit margin target set out in the Power 88 mid-term plan".
Under the changes, Nissan's chief operating officer (COO), Toshiyuki Shiga, will become a vice chairman with responsibility for external affairs, asset management and corporate governance.
The office and functions of the COO will be reorganised among three senior executives, the company said.