Households 'excluded' from UK growth, TUC warns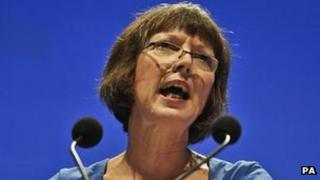 Households are being "excluded" from the benefits of the UK's economic recovery, the leader of the TUC trade unions body will say in a speech later.
Frances O'Grady will tell a conference that the economy has grown by £60bn in the last four years, while household disposable incomes have risen by £1bn.
A spokesman for the government said its economic plan was "the only sustainable way to raise living standards".
The latest official figures suggest the economic recovery is strengthening.
GDP estimates from the Office for National Statistics (ONS) indicate growth of 0.8% in the third quarter of the year, on top of growth of 0.7% in the previous quarter.
But Ms O'Grady will say this good news is not filtering through to household budgets.
"The historic link between economic growth and rising incomes has been broken under this government," she will say.
"Households are being excluded from the benefits of growth. Unless this changes, the recovery will be meaningless to the vast majority of people across Britain."
She will say the government is " desperately short of solutions".
In a statement the Treasury said he government's plan for economic recovery was "slowly but surely working".
"The economy is growing, the deficit is falling and jobs are being created," it said.