RBS 'failed to lend' to businesses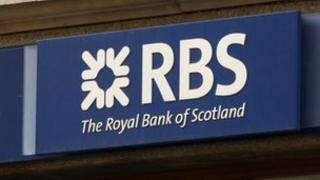 A damning review on the lending practices of the Royal Bank of Scotland (RBS) has found widespread failure.
The report, by Sir Andrew Large, a former deputy governor of the Bank of England, said it had failed to lend to small and medium-sized businesses.
He said that many of its customers thought it was a bank which was "unwilling to lend".
His report has been accepted in full by RBS, which has promised to treat its customers better in future.
The victims of the bank's poor lending policies were small and medium sized enterprises (SMEs).
"The bank has failed to meet its own SME lending targets, partly because they were unrealistic and also because of weaknesses in its lending operations," said Sir Andrew.
He also ordered the bank to set up an enquiry into the way it had handled businesses facing difficulties and distress.
He said RBS needed to show more sensitivity towards such customers.
Customers
The chancellor, George Osborne, described the report as "pretty shocking".
"RBS was a lousy lender to small businesses," he told the BBC.
According to Sir Andrew's report, RBS's total lending to small businesses fell from £55bn in 2009, to £38bn now.
He described its lending processes as "rather slow and complex".
He said RBS gave out business loans to one in every four customers that asked for them, a lower rate than some of its rivals.
He blamed the extent to which it "screens out" customer enquiries when they apply.
Amongst nine recommendations, Sir Andrew Large suggested RBS set up a coherent set of objectives in its lending policies.
He said there should be an enquiry into the allegations of poor treatment of distressed borrowers.
And he said the bank should improve its communications with customers.
Expansion
In response, RBS said it would take a series of immediate actions, to improve its support for SMEs.
"The picture Sir Andrew Large paints is not a comfortable one, but it's one we have to confront," said Ross McEwan, the chief executive of RBS.
He has launched a review of the bank, to improve its performance.
It will write to thousands of businesses, explaining how much more the bank will lend them.
It will cut the time it takes to get a loan approved.
And it will aim to be the leading lender to small businesses, as judged by the Federation of Small Businesses (FSB) and the British Chambers of Commerce (BCC).
"The Large Review shows that there is significantly more we can do to expand our lending to small and medium-sized businesses," he said.
"What you get today from RBS is an absolute commitment that it is going to be the best small business lender in Britain," the chancellor, George Osborne, told the BBC.