Barclays suspends currency traders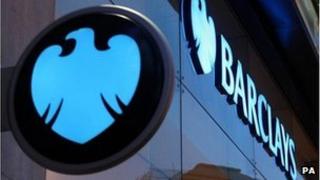 UK bank Barclays has suspended six traders as part of a probe into suggestions that currency markets could have been rigged, the BBC has learnt.
On Thursday, Royal Bank of Scotland suspended two traders in connection with the investigation.
The Financial Conduct Authority (FCA) probe is said to be at an early stage.
Of the six, some work in London and some in other parts of Barclays' global business, the BBC's chief economics correspondent Hugh Pym said.
Regulators around the world, including the UK's FCA, are investigating the currencies market and Barclays, RBS, Citigroup, Deutsche Bank and UBS have all confirmed that regulators have been in contact with them over the currency probe, though there is currently no evidence of wrongdoing.
On Friday, JP Morgan Chase added that it was also being questioned.
"These investigations are in the early stages and the firm is co-operating with the relevant authorities," JP Morgan said.
'Worth millions'
Citigroup issued a statement saying: "Government agencies in the US and other jurisdictions are conducting investigations or making inquiries regarding trading on the foreign exchange markets."
The global foreign exchange market is worth more than $5tn a day, and London is the most important hub, accounting for about 40% of all foreign-exchange trading.
Suspicions of exchange rate manipulation centre on a one-minute window of trading at 16:00 every day that is used to set exchange rates.
The suggestion is that traders colluded to push through high volumes of trades in the run-up to and during the window to influence rates.
"If some of the big players in the market got together and put through some very large trades - billions of dollars each - then that could affect the market," said Mark Taylor, a former forex trader who is now dean of Warwick Business School.
"It would take a huge amount of money to move the market, but you only have to move the market a small amount for a small period, and that could be worth millions of dollars of profit for the banks."
Manipulation
In a statement released alongside its quarterly results on Wednesday, Barclays said: "Various regulatory and enforcement authorities have indicated they are investigating foreign-exchange trading, including possible attempts to manipulate certain benchmark currency exchange rates or engage in other activities that would benefit their trading positions.
"The investigations appear to involve multiple market participants in various countries.
"Barclays Bank has received inquiries from certain of these authorities related to their particular investigations, is reviewing its foreign-exchange trading covering a several-year period through August 2013 and is co-operating with the relevant authorities in their investigations."
Barclays said that it did not yet know what the legal and financial impact from the inquiry would be.
Last year, Barclays, along with other international banks, was fined for manipulation of the Libor inter-bank lending rate.
In the case of Libor, there is also now a criminal investigation by the Serious Fraud Office.
Banks in the UK are also still setting aside billions to pay compensation for mis-sold payment protection insurance (PPI).