Young women increasingly trapped in low pay, says TUC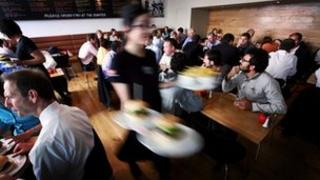 Young women are increasingly likely to be trapped in low-paid jobs such as shelf-stacking, the TUC has said.
According to a TUC report, the proportion of 16 to 24 year-old women doing low-skilled work has tripled over the last 20 years.
However, official figures indicate that young women are better qualified than young men.
The government says it is trying to tackle the problem through extra apprenticeships and work placements.
The TUC report, written by the Work Foundation, said that in 1993 just 7% of young women worked in low-paid jobs, but by 2011 that had increased to 21%.
The jobs involved include waitressing, cleaning and social care. Such work typically pays just over £14,000 a year, barely half the national average.
"While there has been a welcome rise in the number of females gaining qualifications, many still find themselves trapped in low-skill, low-wage jobs," said Frances O'Grady, the TUC's general secretary.
According to the Office for National Statistics (ONS), young women have better qualifications than men at both A level and degree stage.
Glass ceiling
One reason being given for the trend is the reduction in the number of better-paid jobs, including roles in administration or manufacturing.
At the same time, the number of young women working in skilled trades has declined.
Twenty years ago, 3% of them were employed doing jobs such as bar managers, IT engineers, or chefs. However, by 2011 that proportion had fallen to just 1%.
In contrast, the number of young men working in skilled trades such as plumbing or plastering remains around 20%.
Despite some evidence of women breaking through the glass ceiling, the proportion of young women working as managers or senior officials has also declined.
In 1993, 6% of young women were working as managers, whereas in 2011 the number had fallen to 4%.
In response, the government said it was increasing the number of apprenticeships and work experience opportunities through its Youth Contract programme.
"We are absolutely determined to do everything possible to help young people into work and give them the best chance in life so they can fulfil their potential," said a spokesman for the Department for Work and Pensions.
The TUC report also said that schools needed to do more to challenge traditional gender roles, and that companies that win big public contracts needed to provide more training opportunities for both men and women.