Germany rebuffs US criticism of its growth model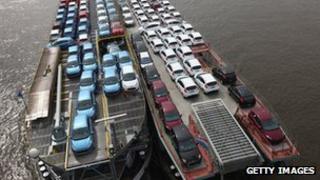 Germany has hit back at US criticism of its export-led growth model, describing the attack as "incomprehensible".
The rebuff came after a US Treasury report said Germany's dependence on exports for growth was hurting the eurozone and the wider global economy.
It also said that domestic demand growth in Germany had been "anaemic".
But Germany's finance ministry said there were "no imbalances" in its economy and that its current account surplus was not a cause for concern.
A surplus happens when a country's income from exports is greater than its import bill.
In its report, the US Treasury said that "Germany has maintained a large current account surplus throughout the euro area financial crisis, and in 2012, Germany's nominal current account surplus was larger than that of China".
'Sign of competitiveness'
Germany is the eurozone's largest economy and has been one of its key drivers of growth in recent years.
Its export prowess is seen as one of its key strengths and has helped cushion the impact of the region's debt crisis on its economy.
Germany narrowly avoided recession earlier this year, but GDP in the second quarter of 2013 was driven up by demand from both consumers and businesses.
However, the US Treasury report said that Germany's dependence on exports coupled with slow growth in domestic demand had "hampered rebalancing" of Europe's growth.
"The net result has been a deflationary bias for the euro area, as well as for the world economy," it said.
Germany refuted those claims saying that its "current account surpluses are a sign of the competitiveness of the German economy and global demand for quality products from Germany".
"The innovative German economy contributes significantly to global growth through exports and the import of components for finished products," a finance ministry spokesman was quoted as saying by the Financial Times.