US Fed maintains stimulus measures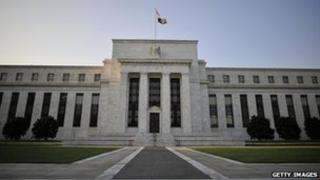 The US Federal Reserve has voted to keep interest rates at record lows and to continue with its $85bn (£53bn) a month bond-buying programme meant to stimulate the US economy.
The decision was widely expected.
Last month, the Fed took analysts by surprise when it delayed its decision to wind down the programme.
Fed officials said the US economy continues to grow, but only moderately, in a statement released after concluding their two-day meeting.
"Economic activity has continued to expand at a moderate pace," the statement said, adding that while the labour market is improving slightly, "the unemployment rate remains elevated."
The Fed also continued to put the pressure on Washington politicians whose policies chairman Ben Bernanke has often argued are hurting US economic growth.
Without explicitly referring to the 16 day shutdown of the US government earlier in October, the Fed nonetheless bluntly said: "fiscal policy is restraining economic growth."
Continued growth
US mortgage rates spiked over the summer as banks and consumers worried that an end to the Fed's bond buying programme could spell the end of easy money.
The Fed acknowledged that while it was no longer worried about increasing rates, the housing sector had slowed in recent months, perhaps as a result of these higher rates.
Nonetheless, the central bank saw cause for optimism, nothing that consumer and business spending had been picking up.
The Fed has pledged to keep interest rates at their current near-zero levels for at least as long as the unemployment rate stays above 6.5% - an indication of an increasing emphasis on jobs.
The latest official figures suggest the jobless rate fell to 7.2% in September.
The central bank has a dual mandate to promote job growth and to maintain price stability.
Investors were broadly expecting no change in policy from the Fed, but the cautious outlook for the economy did cause shares to decline slightly on Wall Street.
The Dow Jones Industrial Average, Nasdaq and S&P 500 were all down by around 0.5% after the Fed statement.