Infosys pays $34m to settle US visa issues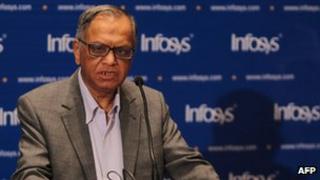 India's second-largest software firm, Infosys, has paid $34m (£21m) to settle a civil lawsuit from the US government over allegations it misused visas.
US authorities have been investigating whether Infosys used short-term visas to bring workers into the US, avoiding limits on long-term work permits.
Infosys said that claims of systemic visa fraud were "untrue and are assertions that remain unproven".
It added that its workers faced no restrictions following the settlement.
The bulk of Infosys' business comes from the US and the company is one of the top applicants for visas that allow high-skilled professionals into the country for work.
But the US issues just 65,000 H-1B visas for professionals a year and they can cost more than $5,000 each to obtain.
B-1 visas, on the other hand, which are meant for short business trips, are not restricted and cost a fraction of that amount.
The US government had been looking into whether Infosys used those short-term visas to bring a number of its employees into the US, circumventing the limits on long-term work permits.
"There were no criminal charges or court rulings against the company," Bangalore-based Infosys said. "Furthermore, there are no limitations on the company's eligibility for federal contracts or access to US visa programmes as a result of the settlement."
It added: "The company's use of B-1 visas was for legitimate business purposes and not in any way intended to circumvent the requirements of the H-1B programme."
The settlement ends the investigation by the US Attorney's Office for the Eastern District of Texas and additionally resolves all issues with the Department of State, Immigrations and Customs Enforcement and the Department of Homeland Security.