GM profits boosted by North American sales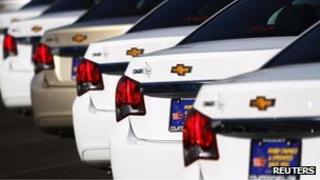 Car giant General Motors has reported better-than-expected quarterly results, helped by strong trading in North America and a reduced loss in Europe.
GM said net income for the third quarter was $757m (£471m), down from $1.5bn a year earlier.
However, the figure was hit by one-off items, and after stripping these out the underlying profit was ahead of analysts' forecasts.
Earnings in North America rose to $2.2bn, from $1.7bn a year earlier.
"We made gains in the third quarter as we improved our North American margins and increased our global share on the strength of our Chevrolet brand," said Dan Akerson, GM's chairman and chief executive.
GM's European operations recorded a loss of $0.2bn, although this was an improvement on the $0.5bn loss seen in the third quarter of 2012.
GM has lost money in Europe - where its brands include Opel and Vauxhall - for many years.
However, chief financial officer Dan Ammann said that the company was "well on track" towards its aim of making its European operations "break-even by mid-decade".
GM's revenues for the quarter rose 3.7% to $39bn.
US rival Chrysler reported a 22% rise in third-quarter profits to $464m, with net revenue up 13.5% to $17.6bn.
The company said its results were helped by strong sales of its Jeep Grand Cherokee and the Ram 1500 pickup.
Chrysler reiterated that it expects to report full-year profits of between $1.7bn and $2.2bn, with revenues of between $72bn and $75bn.
Chrysler is now part of Italian group Fiat, which saw its overall profit rise by 11% to 189m euros (£162m). But once Chrysler's results were stripped out, Fiat suffered a loss of 247m euros.
The US car giants were not the only ones to publish results on Wednesday.
Europe's biggest carmaker, Volkswagen, said that sales of its Audi and luxury Porsche models had boosted its quarterly profit and told analysts it was on track to meet full-year forecasts.
Profits at Volkswagen were 2.78bn euros (£2.38bn) for the three months to the end of September, compared with 2.32bn euros (£1.98bn) for the same period the year before.
However, demand for its cars in core European markets, which account for 40% of the company's sales, dropped for the seventh consecutive quarter.
Earlier in the day, the Japanese company Honda said that strong sales in North America, coupled with a weaker Japanese yen, had helped boost net profit by 46% to 120.37bn yen ($1.23bn, £762m).
Honda also said that demand for its motorbikes was on the up, as was demand from Chinese consumers.