Nintendo's profits hit by poor Wii U sales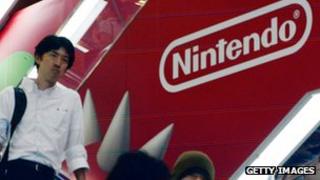 Nintendo has reported a return to profit for the six months to September 2013, but the firm is still hampered by poor sales of its Wii U games console.
The Japanese firm posted net income of 600m yen (£3.8m) during the period, in contrast to its 28bn yen loss during the same period in 2012.
Nintendo said the Wii U had a "negative impact on Nintendo's profits".
However, the company still predicts that it will sell nine million consoles by March 2014.
The company, which also makes Super Mario and Donkey Kong, reported a 2.2% fall in sales to 196.6bn yen.
It cut the prices of both its Wii U and 3DS consoles in order to make up for the falling sales.
The Wii U was launched during November 2012, with Nintendo attempting to recreate the success of its original Wii console.
But overseas demand for the Wii U was disappointing, said analysts.
Shun Tanaka, game analyst at SMBC Friend Securities Centre, said the console was "not as good as we had originally expected".
He said: "But the company's crucial period is the Christmas selling season, which will determine how its annual performance turns out. So their real fight lies ahead."