Barclays reviewing currency trades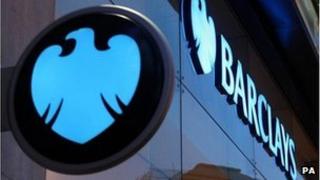 Barclays Bank has said it will review how its currency trading operated over the past several years, amid a new inquiry into market manipulation.
It said it was co-operating with regulators in the inquiry, which comes on the heels of other scandals, including Libor rate-fixing.
Regulators around the world, including the UK's Financial Conduct Authority, are investigating currency trading.
The news came as the bank announced an increase in profits so far in 2013.
In the first nine months of the year, it said pre-tax profits rose to £2.85bn, from £962m in the same period last year.
"Various regulatory and enforcement authorities have indicated they are investigating foreign-exchange trading, including possible attempts to manipulate certain benchmark currency exchange rates or engage in other activities that would benefit their trading positions," the bank said.
"The investigations appear to involve multiple market participants in various countries.
"Barclays Bank has received inquiries from certain of these authorities related to their particular investigations, is reviewing its foreign-exchange trading covering a several-year period through August 2013 and is co-operating with the relevant authorities in their investigations."
'Third headache'
Other institutions, such as Deutsche Bank and UBS, have already said they are involved in the investigation.
Barclays added that it did not yet know what the legal and financial impact from the inquiry would be.
The BBC's business editor Robert Peston says that this is the "third such headache for Barclays, having already suffered penalties of £290m for rigging Libor interest-rate benchmarks and being subject to investigations into whether another important financial price, the so-called ISDAfix, has been manipulated".
Barclays, along with other international banks, has been fined for manipulation of the inter-bank lending rate Libor, a scandal which emerged in June 2012.
In the case of Libor, there is also now a criminal investigation by the Serious Fraud Office.
Barclays also said that the amount that it had set aside to pay compensation for mis-sold payment protection insurance (PPI) was unchanged at £3.95bn.
On Tuesday, Lloyds Bank said it would set aside another £750m for compensation for PPI mis-selling, taking the total to £8bn.
In a statement, Barclays chief executive Antony Jenkins said that he was "not complacent". He added: "My executive team know we must push harder in the final quarter and into 2014."
An earlier version of this story suggested that provisions for PPI mis-selling had been reduced - this was not the case.