Sainsbury's threatens court over Tesco price comparison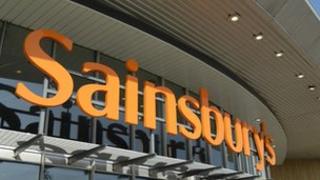 A battle between rival supermarkets Tesco and Sainsbury's over price comparison promotions may go to court.
Sainsbury's is requesting a judicial review after the Advertising Standards Authority rejected its complaint about Tesco's Price Promise campaign.
Sainsbury's says its rival's campaign misleads consumers by ignoring crucial differences between some of the supermarkets' own-brand products.
But Tesco says it is offering "the kind of help customers want".
Fair trade
The Tesco promotion compares the price of goods its customers buy and refunds the difference in the form of a voucher if comparable goods are cheaper in a rival supermarket.
But Sainsbury's argues that the Tesco promotion fails to take into account differences between Tesco and Sainsbury's own-brand products when making comparisons, and is misleading customers.
For example, it says Tesco compares its Everyday Value tea with Sainsbury's Basics tea, despite the fact that Sainsbury's tea is fair trade, while Tesco's is not.
Sainsbury's says it is "time to make a stand" on customers' behalf.
"More than ever, customers want to let their values guide them and in price-matching its products with ours, Tesco is - when it sees fit - choosing to ignore factors such as ethical or provenance certification or even country of origin," said Mike Coupe, Sainsbury's commercial director.
Sainsbury's runs its own price comparison promotion, but only on branded products.
The ASA said in July that the Tesco campaign did not break its rules, and Sainsbury's also lost a subsequent appeal.
Tesco's marketing director David Wood responded that Sainsbury's complaints had been heard and rejected twice already.
"Tesco Price Promise offers customers reassurance on the price of their whole shop, in store and online, not just the big brand products," he said.
"When family budgets are under pressure, that is the kind of help customers want."