London's role in growing market for Islamic finance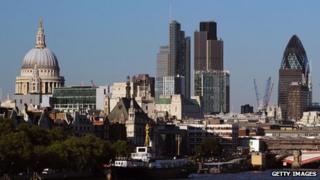 The World Islamic Financial Forum is in London and the UK Prime Minister David Cameron has taken the opportunity to announce some initiatives to raise the financial district the City of London's profile in this growing business.
The government has been keen to promote London and attract a wide range of financial activity.
It is consistent with the recent efforts of the Chancellor of the Exchequer George Osborne to promote the City as a centre for trading in China's currency, the renminbi.
Mr Cameron says the UK Treasury is working on an Islamic bond that will raise about £200m ($320m) and which is likely to be launched next year.
Selling bonds is the routine method that governments use to borrow money in the world's financial markets.
Scholarly debate
The distinctive feature of these Islamic financial products - known as sukuk - is that they are intended to get round the prohibition on paying or receiving interest.
They are usually described as investments rather than lending.
It is usually done by making the initial payment - in this case, from an Islamic investor to the British government - an investment in some asset rather than loan.
The return to the investor comes as profit or rent rather than interest.
The British government's bonds are likely to make use of property - buildings or land - as the asset into which the investments would go.
This approach does have its critics, with some Islamic scholars arguing that it does not really avoid interest payments.
This is because fixed returns and a fixed repayment when the investment matures do look rather like a loan with interest.
But there is a vigorous debate among Islamic scholars about exactly what is and is not acceptable, and the details of the British government's bonds have not yet been settled.
Several governments in the Islamic world do use this method to raise funds, with Indonesia, Malaysia and Turkey being among those who have adopted this approach.
Britain would, says Mr Cameron, be the first country outside the Islamic world to use this approach.
He also says the London Stock Exchange is launching new stock indexes of firms whose business is consistent with Islamic principles.
That would make it easier for Muslim investors to decide where to put their money.
Growing niche
Islamic finance is certainly a growing business, and the Prime Minister has said it is currently expanding at a 50% faster rate than conventional banking.
However, it is still something of a niche.
Conventional borrowing with interest still dominates for governments in the Islamic world that need to get funds from the markets, or from agencies such as the IMF or the World Bank.
And many of them hold interest-bearing investments, such as US government bonds.
Nonetheless, global Islamic investments are forecast to reach £1.24bn ($2tn) by next year according to accountants EY - which makes it quite a substantial niche.