Bank of England: Mortgage lending highest since 2008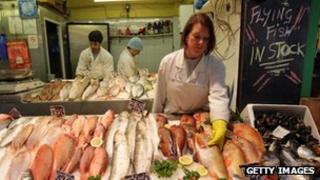 Lending to homebuyers has hit its highest level since the financial crisis, according to figures from the Bank of England.
There were 66,735 mortgage approvals in September, the largest number since February 2008.
However, the figure is still much lower than before the crisis, when 100,000 approvals a month were typical.
The Bank also reported the biggest pick-up in lending to businesses since January this year.
Loans to firms rose by £720m. But loans to small businesses actually fell, by £383m.
'Significant boost'
The rise in mortgage lending has been steady since the government launched the first phase of its Help to Buy scheme in April.
This enables borrowers to put down a deposit of 5%, in return for taking out a shared equity loan.
The second phase, in which the government will guarantee mortgage repayments, began earlier this month.
"The marked increase in mortgage approvals in September reported by the Bank of England indicates that housing market activity was already improving markedly, even before the Help to Buy mortgage guarantee scheme came into being," said Howard Archer, the chief UK economist of IHS Global Insight.
Mr Archer said he believed the UK was a long way from a housing bubble, but nevertheless warned that "there is a mounting danger that house prices could really take off over the coming months".
He also welcomed the rise in lending to businesses, which has been relatively slow to materialise.
So far, the government's Funding for Lending Scheme (FLS) has been more successful in promoting lending to individuals than to businesses.
But the September figures provide "a significant boost to hopes that banks are now becoming more prepared to lend to businesses, given the improved economic situation and outlook", said Mr Archer.