Deutsche Bank and UBS see profits hit by legal costs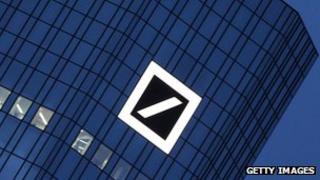 Germany's largest bank, Deutsche Bank, and Switzerland's UBS have seen their quarterly profits affected by possible legal costs amid banking scandals.
Deutsche Bank reported a reduced third-quarter profit of 51m euros ($70.2m; £43.6m) after it reserved 1.2bn euros for possible losses from lawsuits.
UBS turned last year's loss into a gain of 577m Swiss francs ($642m; £400m).
But it said it would miss a key profit target, as the Swiss regulator asked it to store extra cash reserves.
Scandals such as Libor have rocked the banking industry in recent years.
Investigations are under way into more than 12 banks and brokerages, including Deutsche Bank, JP Morgan and Citigroup, to assess what part they may have played in the manipulation of Libor inter-bank lending rates, which are used to set trillions of dollars of financial contracts.
'Challenging' times
Deutsche Bank's profit compared with gains of 754m euros in the same period of 2012.
Its latest provisions for possible lawsuits take the total in its litigation reserves to 4.1bn euros.
The bank met "several challenges" in the third quarter, said its co-chief executives Juergen Fitschen and Anshu Jain.
They said: "We took substantial litigation charges and saw reduced profits in investment banking, leading to a lower quarterly result."
In a statement, the bank said: "We expect the litigation environment to continue to be challenging."
Target deferred
Meanwhile, UBS's July-to-September figure represented a return to profit after losses of 2.1bn Swiss francs in the same period of 2012.
UBS said Swiss regulatory changes obliged it to put aside more money in order to account for "known or unknown litigation, compliance and other operation risk matters".
It said this would affect its profit targets for 2015.
On UBS, Andrea Williams, European equities fund manager at Royal London Asset Management, said: "Just as we thought the regulation might be over, back it comes. I don't think anybody anticipated the regulator required more capital."