BP sees lower quarterly profits but beats forecasts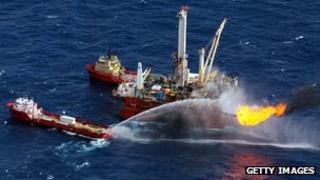 Oil giant BP has reported sharply lower profits for the third quarter of 2013.
Underlying replacement cost profit, which strips out the effect of oil price movements, was $3.69bn (£2.29bn) - down from $5.02bn for the same period a year ago.
BP said weaker margins on refining, selling of refineries and reduced income from Russia were to blame.
However, the result beat market forecasts of $3.17bn, while the company raised its dividend to shareholders.
It said it would pay out 9.5 cents a share - an increase of 5.6% - and added it would sell assets worth $10bn over the next two years, handing most of the proceeds to shareholders.
BP said the cost of the 2010 Deepwater Horizon oil spill in the Gulf of Mexico was currently $42.5bn.
Production at the firm fell by 2.3%, as BP was hit by the cost of making products using crude oil relative to their value, it said.