Lloyds Bank sees PPI bill raised by £750m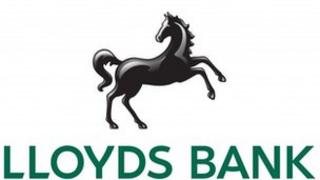 Lloyds Bank says it will set aside another £750m for compensation for mis-sold personal protection insurance (PPI), taking the total to £8bn.
UK banks have reserved £16bn to compensate customers sold unnecessary or irrelevant insurance, with Lloyds setting aside more than any other.
The bank, still part-owned by the taxpayer, made the announcement as it reported its third-quarter results.
Shares in Lloyds fell by 3.5% as markets opened.
Its profits for the nine months to the end of September were £1.69bn.
Chief executive Antonio Horta-Osorio said: "We are well on our way to becoming a better, simpler, low-risk bank, which delivers the products our customers need and the strong performance and sustainable returns our shareholders expect."
Dividends
The charge for PPI had an impact on the third-quarter profit figure and helped to leave Lloyds with a loss of £440 million for the three months to the end of September.
The group also put the loss down to a £330m charge against losses incurred selling its German life insurer Heidelberger Leben, to meet tougher regulatory requirements, in August.
The government sold £3bn of its stake in the bank in September, and still retains more than a third of the company. It offered big investors 6% of Lloyds.
US demand for the shares was reportedly high, with stronger than expected interest from institutional investors.
Singapore government-owned Temasek also reportedly bought a large amount of the Lloyds shares, around 0.5% of the total.
During Lloyds' bailout in 2008, the government bought shares at an average price of 73.6p and injected £20.5bn in total into the bank.
TSB
The group also announced it was talking to regulators about starting to pay dividends again, for the first time since 2008.
The average market price at the time was 61p, so the government booked the difference as a loss and added it to the national debt.
Lloyds stopped making a loss earlier this year, with first half-year profits of £2.1bn.
It recently revived the TSB brand and has transferred five million accounts to the new bank, which started operating a month ago.
The new bank will be sold off next year, as part of a process ordered by the European Commission to provide greater competition.