Burger King profits up as costs fall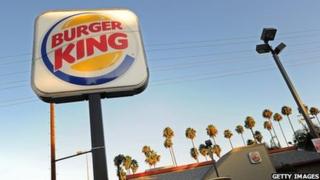 Fast food vendor Burger King has reported higher profits as sales increased outside the US.
The US restaurant chain said its better-than-expected profits for the July-to-September period of this year were due to cost reductions and more franchising.
Burger King's net profit rose to $68.2m (£42.2m), as against $6.6m in the same period a year earlier.
However, sales at its North American branches fell 0.3%.
The company has recently introduced Satisfries, a lower-fat variety of chips, in the US and Canada, in an effort to offer a healthier alternative after criticisms of the high fat content of its food,
Costs cut
The firm, which is the third-largest burger chain in the US, behind rivals McDonalds and Wendy's, said it has succeeded in reducing costs by 90%, through greater use of franchising instead of owning its restaurants.
In the past year, it refranchised more than 500 restaurants.
Burger King saw sales rise 2.4% in Europe, Africa and the Middle East for the three months to 30 September, with a successful online coupon-driven marketing push in Germany and Spain.
In the Asia Pacific region, Burger King sales rose 3.7%.
Burger King was taken over by Brazilian investment firm 3G in 2010.
Last week, Burger King's biggest rival, McDonald's, warned of flat profits and a "challenging" market ahead.
Burger King shares have risen 16% over the past 12 months, and were up 2.7% in pre-market trading following the results.