UK retail sales flat in October, says CBI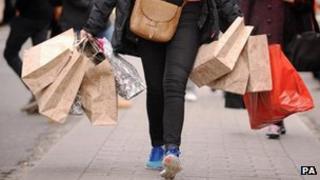 Retail sales growth halted in October following a big drop in supermarket sales, according to business lobby group the CBI.
The organisation's distributive trades survey showed the number of retailers reporting sales levels above last year's was barely higher than those reporting a fall.
Economists had expected to see a far more positive balance.
However, the CBI said retailers were expecting a bounce back next month.
The majority said they had placed higher orders with their suppliers.
Barry Williams, the chairman of the CBI survey panel and a senior executive at Asda, said: "Although the High Street recovery stalled this month, there is optimism that it was just a blip.
"It's also encouraging to see that signs are pointing towards increased consumer confidence, backed up by continuing growth in certain areas such as furniture and carpets... (which) all did particularly well in October."
Upturn
The latest official figures from the Office for National Statistics showed retail sales volumes increased by 2.2% in September.
A separate report from consultancy firm EY also struck a positive note for the immediate future.
The EY Item Club said that economic growth and an improving housing market was fuelling a recovery in many of the UK financial services sectors.
It said consumer credit was growing for the first time in four years, although the picture still looked "bleak" for business lending.
EY said consumer credit had fallen by almost £50bn - 23% - since 2008. However, it expects credit to "grow gradually", and expand by more than 3% in 2015.
However, it noted that while the Funding for Lending scheme has been successful in increasing mortgage lending, there was "little evidence" it has improved lending to companies.