House prices rising modestly, Land Registry figures show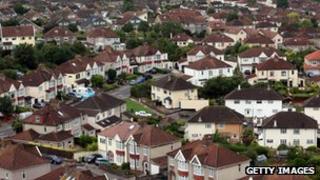 House prices are only rising modestly in England and Wales, figures from the Land Registry suggest.
Its latest index shows that prices rose by 3.4% in the year to September, a little faster than general inflation.
It said the average property price is now £167,063, well below the peak reached in November 2007 when average prices hit £181,839.
The figures will provide ammunition for those who argue that Britain is a long way from a housing bubble.
Earlier in October, the Office for National Statistics (ONS) reported that house prices throughout the UK were at their highest since records began.
ONS data is based on housing transactions, but higher-value London properties are given a heavier weighting than in other surveys.
The latest figures from the Halifax, based on mortgage applications, suggest prices rose by 6.2% over the past year.
The Land Registry data includes houses bought for cash, as well as those purchased with mortgages.
It is also based on repeat sales, comparing successive prices for the same individual property.
As a result, it says that its sample size is "larger than all the other statistical measures available".