Rio Tinto to sell stake in Australian coal mine for $1bn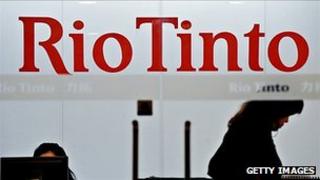 Rio Tinto is to sell its 50.1% share in Australia's Clermont thermal coal mine to Swiss commodities giant Glencore Xstrata and Japan's Sumitomo.
Anglo-Australian mining giant Rio will receive $1.02bn (£630m) from the sale of the facility in Queensland state.
"The sale... will allow us to realise value for our shareholders as we continue optimising our portfolio," a Rio statement said.
Coal mined from Clermont is burned to produce electricity.
Rio said it remained "committed to a long-term future in central Queensland" at its other mines.
The firm has announced or completed divestments so far this year of some $2.92bn.
Sell-offs include a controlling stake in Australia's Northparkes gold and copper mine to China Molybdenum, the sale of a majority holding in South African copper producer Palabora to a Chinese consortium and transfer of the Eagle nickel and copper project in the US to Canada-based Lundin Mining.
This summer Rio reported a 71% fall in half-year profits, partly due to reduced demand from China.
Earlier in October, it said it was making good progress on a cost-cutting programme.