G4S rejects Charterhouse offer for cash solutions arm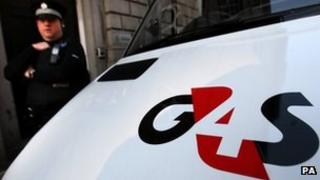 G4S has rejected a £1.55bn offer for its cash solutions business from UK private equity outfit Charterhouse Capital Partners.
The security company said the bid - which it called "highly opportunistic" - undervalued the unit.
It said "the cash solutions business is integral to G4S's operations and strategic plans".
Cash solutions services include transporting money, and the unit accounts for 18% of G4S's turnover.
"The offer has been firmly rejected considering the strategic importance of the cash solutions businesses to G4S and because the board believes the conditional offer fundamentally undervalues the business and its prospects," it said.
"G4S is committed to invest in its core businesses, including cash solutions, which have strong opportunities for sustainable profitable growth. The cash solutions business is integral to G4S's operations and strategic plans."
Earlier this year, G4S reported total revenues rose by 10.4% to £7.5bn in 2012 and said it expected to see "good continuing organic growth" in 2013.
Accusations
G4S has been hit by a number of incidents since the summer of 2012, when it was criticised over its failure to provide the promised number of security personnel to the London Olympics.
In August 2013 it pulled out of bidding for new contracts for tagging criminals in England and Wales following claims it had been overcharging for the service.
This summer the UK government also expressed "serious concern" over prison HMP Oakwood, run by G4S, after it was given the lowest performance rating. The company said then it was working with the Ministry of Justice to address issues at the facility.
Now staff at Mangaung prison in South Africa, run by G4S, have been accused of abusing inmates. G4S says it has seen no evidence of abuse by its employees.
The South African government has temporarily taken over the running of the prison and launched an official investigation.