Yellen will start Fed confirmation meetings next week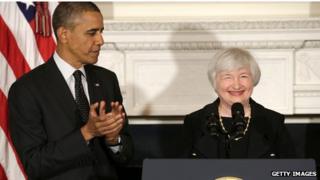 White House officials say the have submitted the paperwork necessary to confirm Janet Yellen as the next head of the Federal Reserve.
Ms Yellen will meet US Senators next week as part of the process to install her as the next head of the central bank.
Officials say they are confident that she will secure the 51 Senate votes needed to confirm her position.
However, the hearings are expected to be contentious.
Several Republican Senators have already indicated that they will oppose Ms Yellen's nomination.
Next week, she will first meet with senators on the influential Banking Committee before she testifies in front of the full US Senate.
Two Republican members - Alabama senator Richard Shelby and senator Bob Corker from Tennessee - have both indicated they will be meeting Ms Yellen, despite voting against her appointment as vice-chair of the Federal Reserve in 2010.
A full Senate vote on her nomination is not expected to happen until mid-November.
Mr Obama nominated Ms Yellen on 9 October to replace current chairman Ben Bernanke, whose term expires at the end of January.
If confirmed, she would become the first female chair of the central bank.