Peugeot's Aulnay-sous-Bois plant produces last car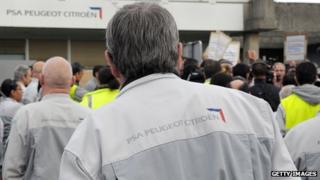 The final car rolled off the production line at Peugeot's Aulnay-sous-Bois plant in the Paris suburbs on Friday.
Since opening in 1973 the plant has produced more than 8 and a half million cars and once employed 3,300 workers.
Staff demonstrated outside the plant, complaining that Peugeot has reneged on a promise to find new jobs for all the staff employed there.
Peugeot is shutting Aulnay as part of a wider cost cutting plan that includes 1,400 job cuts at a plant in Rennes.
Altogether 8,000 jobs cuts are being lost under the plan announced last year.
The car maker is in financial difficulty and reports say it is looking to raise 3bn euros (£2.6bn; $4.1bn) in a deal that would involve the French government and China's Dongfeng Motor.
Earlier this week Peugeot reported that vehicle sales fell by 5.8% in the third quarter to 8 billion euros, compared to the same period last year.