Shares in Gucci owner Kering fall after weak sales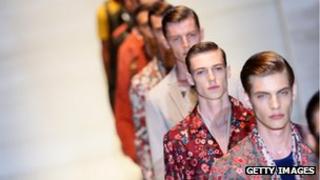 Shares in French luxury and retail firm Kering have dropped by 3.6% after its Gucci fashion brand posted its weakest quarterly sales growth for four years.
Gucci's sales growth fell to 0.6% in the third quarter. Analysts had expected 1%.
As a whole, Kering's luxury division posted a sales rise of 5.6%, as against expectations of up to 8%.
Gucci makes up more than half of Kering, whose share price fell to 169 euros (£144) following the results.
Citi analysts attributed Gucci's weaker performance to "self-inflicted disruption" as it attempted to take itself further upmarket.
Jean-Marc Duplaix, finance director at Kering, said the weaker growth in Gucci sales was due to a temporary decline in demand for luxury products.
He said that changes made by the company in order to restore control over the brand and increase exclusivity, by limiting distributors and volumes of product, were also behind the slowdown.
Kering also owns Puma, Yves Saint Laurent and Alexander McQueen.
Earlier this month, the world's biggest luxury goods group, LVMH, also reported slowing sales at its most important division, Louis Vuitton, which accounts for more than half of the group's operating profits.