Robert De Niro invests in Shanghai property complex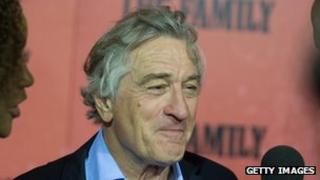 Actor Robert De Niro is among the investors in a new property complex in the Chinese city of Shanghai, to include an arts centre, a boutique hotel, a cinema and global retailers.
Due to open in 2016, Project 179 will be a 76,500-sq-m (850,000-sq-ft) complex on Shanghai's waterfront.
De Niro signed a deal with the property's owner, the Shanghai Bund Investment group, as part of a US-Chinese business partnership.
The design will reflect 1920s Shanghai.
De Niro said: "By ensuring a design that reflects the vibrant history of Shanghai, Project 179 can serve as a jewel in its crown: ushering in a bright future while paying homage to its rich and storied past."
The star of films including Goodfellas and Taxi Driver said he was looking forward to establishing the Bund district, on Shanghai's waterfront, as "one of the premier visitor destinations across the globe".
The project will restore four vacant buildings and build a fifth, and is named after the municipally-designated blocks of land it is built on.