Volvo to cut 2,000 jobs as profits fall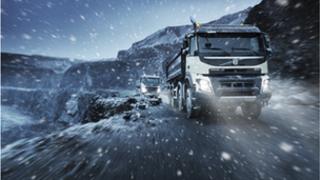 Truckmaker Volvo is cutting 2,000 jobs after investments in new models and a rising Swedish kronor held back third-quarter profits.
Sweden's largest private sector employer said earnings fell to 2.50bn kronor ($393m; £242m) from 3.48bn kronor a year-ago.
Volvo is launching a new range of trucks ahead of emissions rule changes.
"The changeover to the new products will take another couple of quarters," chief executive Olof Persson said.
Volvo, which makes trucks under the Renault, Mack and UD brands, said third-quarter sales fell to 64.9bn kronor, down 5% on the same quarter last year.
European demand for commercial vehicles has been held back by an 18-month recession that ended in the second quarter of this year.
Sales in the heavy-truck segment in Europe fell 8.1% in the eight months to the end of August, according to industry data.
Mr Persson said in a statement: "The product renewal is the largest in the history of the Volvo Group, and it means that we are going to enter 2014 with a highly competitive product range."
Shares in Volvo, which employs about 120,000 people, were 7% down in early morning trading.