Samsung profit rises 26% on smartphone boost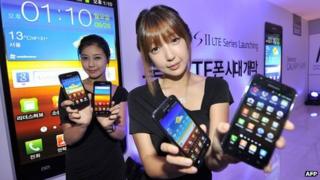 Samsung Electronics has reported a 26% jump in profit in the third quarter driven by strong smartphone sales and a recovery in its memory chip business.
It made a net profit of 8.24 trillion won ($7.6bn; £4.7bn) in the July-to-September quarter, up from 6.56tn won during the same period a year earlier.
Operating profit rose to a record 10.2 trillion won during the quarter.
The firm said sales of smartphones, a key driver of its growth, are expected to rise further in coming months.
It said that sales "will gain momentum due to year-end promotions over the holiday season and an improved line-up of mass-market smartphones".
Increased competition
Samsung has posted record operating profit in six of the past seven quarters, mostly due to the growth of its smartphone division.
The firm has enjoyed success in both the top-end as well as lower end of the smartphone market, giving it an edge over rivals such as Apple which makes only top-end phones.
Its growth in the sector has seen it become the world's biggest smartphone maker.
However, there have been concerns over whether Samsung can continue to grow at such a strong pace, not least because of increased competition and saturation of some key markets.
"Samsung has done well, having rapidly caught up with Apple in the smartphone market. But I'm concerned whether Samsung would be able to do better," said Kim Sung-soo, a fund manager at LS Asset Management.
"Like Nokia, Samsung may hit a limit in increasing market share. Apple is also fighting back, signalling an uphill battle for Samsung."
Analysts said that the company needed to come up with more innovative products to help sustain its growth rate.
For its part, Samsung has been taking steps in that direction.
Earlier this month, it launched a smartphone with a curved display screen, beating its rival LG by at least a few months to offer a handset featuring flexible-screen tech.
In September, it unveiled a smartwatch with a colour screen that can show alerts, be used for voice calls and run apps. Again, it edged firms such as Microsoft, Apple and Google to unveil such a device.
Chip demand
Samsung's latest earnings were also boosted by its semiconductor business, which saw profit more than double to 2.1tn won, the highest in three years.
Revenues in the division rose 12% over the previous quarter to 9.74tn won.
The firm saw its bottom line buoyed by stronger chip prices after a fire at a plant owned by rival SK Hynix caused tightened supply in the market.
Samsung supplies chips to other smartphone-makers, including its biggest competitor Apple, and expects demand to pick up as the year draws to a close.
However, its consumer electronics division, which includes TV manufacturing, saw a decline in profit due to a drop in demand in China and Europe.
But Samsung said that it expects the unit to bounce back in the current quarter, not least due to holiday season shopping during the end of the year.